About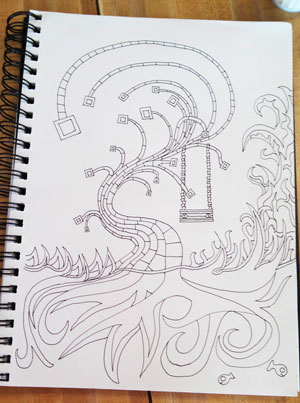 How do you draw these?
I draw by hand, pen and paper. I sometimes take a cue for inspiration send yours here, though I don't plan what I'm going to draw. Instead, I start with a big shape, adding patterns and shapes in a Zen drawing style, and let the drawing turn into what it does. Then, I scan the drawings, and color them digitally with a combination of Adobe Illustrator and Adobe Photoshop.
So many times, I'll be drawing something that I think is pretty abstract, and then end ends up having meaning later on. The drawings feel like they have a life of their own. I describe them as Zen drawing meets quirky, childlike, approachable drawings that invite the viewer to explore deceptively intense content. I see themes in commercialism, anthropomorphism, love, family, the existential, and American life.
Recurring characters
Some of the recurring characters and objects are:
Who are you?
Katie – I draw and build for the web. Find more of me here.
Where can I find your art?
Besides here, where it's all awesomely sorted and stuff? Get art in your inbox by signing up here. Find art on Instagram, Facebook, Twitter, DeviantArt, Tumblr and Pinterest. Buy art on Society6 (mostly prints) or Zazzle (products).
Where can I buy things?
Can I commission a drawing?
Yes! First, let me explain the difference between this, and illustration…
My typical art – almost every drawing here – is done in an unplanned process. Though it often starts with a prompt, I don't actively think about what I'm going to draw, I just let the drawing go the way it wants to. I think that's what makes it magical, funny, or surprising.
I have tried illustration. This – #102 – is an example of what illustration looks like. With this drawing, I was asked to copy a photo. To my eye, thinking too much killed the magic.
So! I draw things based on a prompt, rather than a full thought-out concept or photo. A prompt can be a phrase, favorite song lyric, short quote/sentence, etc – see the drawing titles in the archives (click on title view) for examples.  Commission a drawing for either personal or commercial purposes – email me at katie@yellowrubberball.com.
Can I buy a drawing that you haven't posted for sale?
Yes, I sell drawings, prints, and coloring book pages for noncommercial purposes (and if you want something for commercial purposes, commission a new one). Email me at katie@yellowrubberball.com and send me the URL of the drawing you want.
This section for Google bots.
Hi, Google bots, and any humans still reading! I'm Katie Benedetto Jones, a local Durham artist living in Durham, North Carolina, USA, who draws zen drawings and cartoons that are quirky, whimsical, and unique. They're bright and inviting on the surface, though often explore something darker – inviting darkness to light! I started out drawing inspired by Zen drawing coloring books – I got bored coloring, and wanted to draw my own stuff – powered, naturally, by a tough event I was coping with. Art is an awesome outlet for grief and heartbreak. Art therapy. Art as healing. It's a thing. And now I keep on doing it because it's really fun. 🙂
A Google bot could call me a Chapel Hill artist since I live right over the Chapel Hill, North Carolina line, too – and am a University of North Carolina alumni (who's going to search alumnus?). Speaking of alum-ness, I'm a College of William & Mary Alumni – check out what I did with my math degrees! 🙂
My art is inspired by all of my artistic heroes: Sam Brown of Explodingdog, and especially his Crazy Monster; Dr. Seuss – my work is said to sometimes be quite Seussical! – Dale Chihuly, Britto, Carl Sandburg & his Rootabaga Stories, and Isaiah Zagar. We all live on the shoulders of giants. There is no such thing in my world as entirely original art, though I try to keep my contribution original.
I post my art here, as well as on Facebook, Instagram, DeviantArt, and Tumblr (Gifts from a Tornado or a Fart) – and occasionally Pinterest and Twitter, too (hey humans, let me know where and how you want to see it!). You can buy my art – including prints and a 2016 calendar – on Zazzle.